Proposal: List HBTC as Collateral asset on dForce Lending
Summary:
dForce is a welcomed decentralized lending platform which minimizes consumer effort and maximizes risk management for users. To expand HBTC's scenarios, we are delighted to work with dForce to make HBTC available anytime and everywhere by firstly listing HBTC (Huobi BTC) on dForce.
Basic Facts of HBTC:
Launched by: Huobi DeFi Labs
Backed by: HBTC is backed by BTC in 1:1 ratio
Date of Issuance:Feb.2020
Smart Contract:
HBTC >
0x0316EB71485b0Ab14103307bf65a021042c6d380
Custodian Contract:
HBTC >
36KAwNUR8VeLpUfGwdk7LEN6F4yvoRWMjn and 31rggRJ3iB8GE8yxTNa28pXhd24GbCQK3T
Audited by: Slow Mist (https://slowmist.com)
Introduction of HBTC
H-token series are a suite of assets issued on Ethereum and backed by cryptocurrencies from other blockchains to bring more digital assets to the Ethereum DeFi ecosystem.
The issuance of the H-Tokens will allow more users in the crypto world to benefit from DeFi, accelerate the development of the Ethereum DeFi ecosystem, and promote the growth of Ethereum-based assets.
HBTC has enabled BTC users to seamlessly access Ethereum DeFi protocols such as Uniswap, Curve, SushiSwap, C.R.E.A.M, Harvest, ForTube and more. And its growing use cases prove that the value has been recognized by the market, currently HBTC is the top2 erc20 BTC in the market.
Use Cases (example):
HBTC pool is available on Curve since Sep 10th and liquidity providers can then deposit HBTC there to earn trading fee reward and CRV reward. https://www.curve.fi/hbtc/deposit
How to Get HBTC?
To meet users' fast exchange of HBTC, Huobi Global will take the lead in supporting HBTC and rest of H-tokens. Users can choose ERC20 (HBTC) when withdrawing their BTC.
Buy, deposit or get BTC through trading and save it in the Exchange account on Huobi Global
Select BTC - Withdraw - ERC20 (HBTC) in the Exchange account
Our Strengths
A World Class Security System
Secure and reliable class services
Six years of experience in digital asset services
Decentralized structure and anti-DDOS protection system
Local Operation Teams Across the Globe
Global Ecological Layout
Local trading service centers in many countries around the world
Blockchain ecosystem featuring integration of multiple business forms
Remodeling the Crypto Exchange
Users first
Develop compensation first system
Develop User Protection Fund
Benefits for dForce
Huobi Group has maintained more than 15 million users in the world, and H-Tokens like HBTC plays the key roles to bridge the BTC users to Ethereum ecology in participating the DeFi activities. And as witnessed, market needs of HBTC jump sharply. Thus, having HBTC listed on dForce would surely introduce quite a decent amount of liquidity to dForce and to benefit the growth of dForce. Let's hold hands to achieve DeFi ecological prosperity.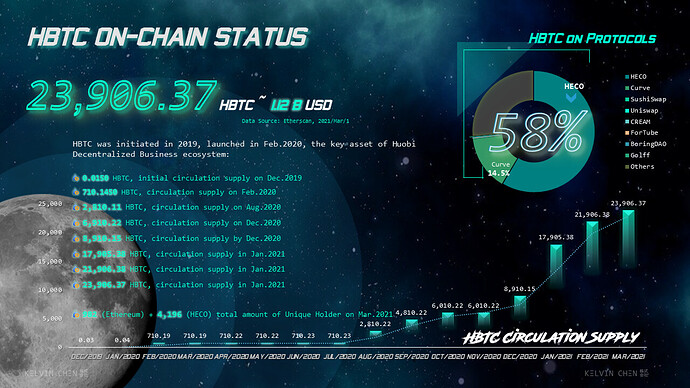 Key Data of HBTC:
Dashboard: https://www.htokens.finance/en-us/assets
Coingecko: https://www.coingecko.com/en/coins/huobi-btc
Coinmarketcap: https://coinmarketcap.com/currencies/huobi-btc/
Cheers!