We are delighted to announce the launch of 5 more assets on dForce Lending, including UNI, DF, GOLDx, BUSD, and HBTC, which has been approved through governance proposal DIP007. These assets can be used as collateral to support a loan.
These 5 new assets have gone through risk assessments under the dForce Risk Framework, with test scores, risk parameters, and risk analysis viewable through documents.
It is worth noting that the listing of GOLDx takes a bold step forward in pushing DeFi to the masses, making it the first blockchain-issued gold to earn interest in the DeFi space. Your earnings compound continuously and are reflected in your GOLDx balance (current saving interest 16.6%). Meanwhile, dForce Lending is the first DeFi protocol that provides a yield market for gold and accepts gold as collateral to support crypto loans.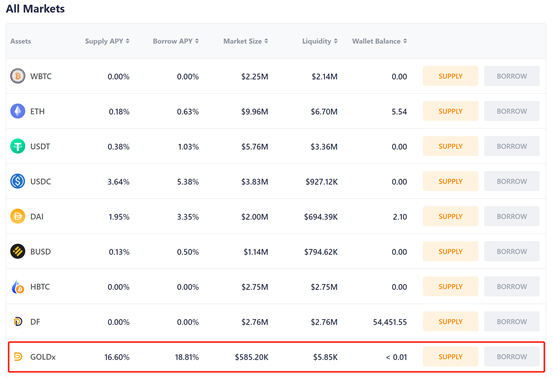 Everyone can make nomination on your supported assets through our Forum. Most nominated assets by dForce community will be rolled out in the next phase. Our team will perform an initial assessment and formulate proposals on-chain if the proposed assets fulfill a minimum score of 60. The final decision remains in the hands of DF token holders and can only be accepted upon the approval of a governance proposal through Snapshot.
Users' feedback is always appreciated. If you have any suggestions or questions about any of the dForce protocols, please feel free to contact us on Forum, Twitter, and Telegram. You can also see frequent updates about dForce through our social media channels. Every opinion will be reviewed carefully.