Navigate to dForce and make sure your network has been switched to Arbitrum One.


First we need to get Curve LP tokens by providing liquidity to the pool. Click on Get USX-2CRV to navigate to Curve.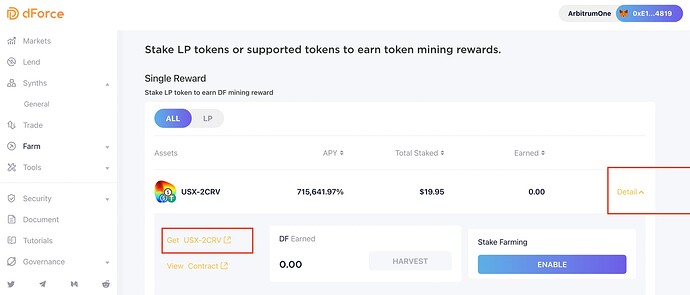 Enter the amount you want to provide for each token (USX, USDT, USDC) and click on the "Deposit" button to continue. You will be able to see the number of LP tokens to receive.


Return to dForce and enable LP token for the first-time use.


Click "STAKE" and enter the amount of LP tokens you would like to stake with dForce, then confirm the transaction from your wallet.

You will be able to receive DF rewards for liquidity provided on Curve on a pro rata basis.

You can click on "Harvest" to claim your DF rewards at any time.