We are excited to announce our integration with Band Protocol on dForce Trade to secure price feed for our on-chain digital gold token GOLDx. dForce Trade is a key trading protocol within the dForce ecosystem which leverages Band Protocol's customizable decentralized oracle as one of multiple trusted data sources for GOLDx. Our partnership with Band Protocol is extendable into other dForce protocols as the network matures and is a great addition to decentralizing and diversifying our oracle services. Starting with the integration with GOLDx on dForce Trade, we offer a higher level of decentralization and reliability guarantee for GOLDx users across the dForce network.
GOLDx is the first gold protocol launched by dForce which is backed 100% by constituent gold reserves (currently with PAXG as its sole constituent gold reserve). This allows users to have exposure to gold on-chain that is denominated in grams, making it easier for exchanges and DeFi to build derivatives using GOLDx. Additionally, physical gold can be redeemed through GOLDx through designated agents and brokers worldwide.
"We are thrilled to partner up with Band Protocol's unique and scalable oracle solution that captures all dForce's external data needs and high-frequency update parameters without being limited by exorbitantly high fees for our swap services for digital gold token GOLDx as a start, and will expand the oracle coverage to other protocols as our network matures… The prioritization of security from the Band Protocol has been displayed as both our teams have been working in recent months to continuously test and iterate the oracle layer for GOLDx trading that will power the entire DeFi protocols integrated with this asset across ecosystem and network that lives on dForce Network."
Mindao Yang, Founder & CEO of dForce
Band Protocol's scalable and customizable oracle technology will assist dForce to create decentralized oracles that connect our smart contracts to external real-world market and price data for PAXG/USD to secure GOLDx on dForce Trade. The price oracle currently has two primary aggregation parameters, updating once every two minutes or upon a 0.1% price deviation. This is achieved through BandChain, an independent high-performant blockchain built specifically for oracle computations that prevents decentralized applications from delayed or costly data arising from congestion of a particular blockchain.
"Gold has been perceived as one of the safest investments for hundreds of years, and we are excited to bring this same security to digital gold assets by integrating Band Protocol's custom oracle scripts to the dForce GOLDx swap. Together with dForce, we are confident that we can collectively grow dForce into one of the biggest and most secure DeFi ecosystems as the industry continues to rapidly grow."

Soravis Srinawakoon, CEO & Co-Founder of Band Protocol
With additional oracle service provided by Band Protocol for GOLDx, users can more efficiently acquire GOLDx via dForce Trade and participate in GOLDx staking pool by depositing the UNI-V2 LP Token received into the $GOLDx Rush Pool through dForce Staking Portal to mine DF. Current APY is 239% at writing. Please read through dForce Liquidity Mining and miner guide , or join our Telegram for details.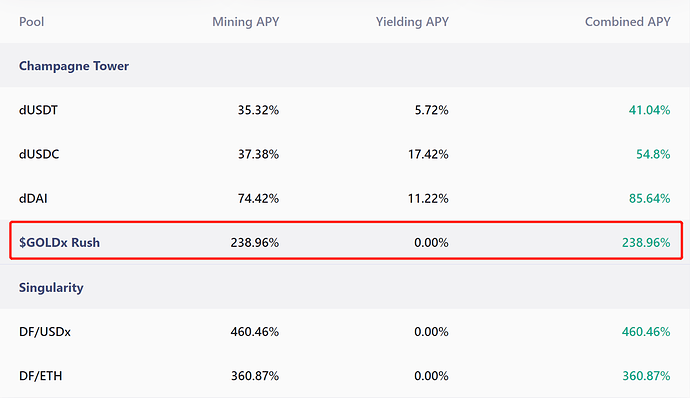 This is only the beginning of the deep collaboration with Band Protocol who are passionate to assist dForce with secure and scalable oracle infrastructure in creating the next generation 'super-app' for decentralized finance.
Join Our AMA With Us
With a hope to help users to connect and understand this partnership further, we are collaborating with the Band Protocol team to host an AMA:

Date: 18th of August 19:00 GMT+8 (Singapore time)

Venue: http://t.me/bandprotocol
Make sure you tune in to be able to ask any questions regarding this new and ongoing strategic partnership!
About Band Protocol
Band Protocol is a cross-chain data oracle platform that aggregates and connects real-world data and APIs to smart contracts. Blockchains are great at immutable storage and deterministic, verifiable computations — however, they cannot securely access data available outside the blockchain networks. Band Protocol enables smart contract applications such as DeFi, prediction markets, and games to be built on-chain without relying on the single point of failure of a centralized oracle. Band Protocol is backed by a strong network of stakeholders including Sequoia Capital, one of the top venture capital firms in the world, and the leading cryptocurrency exchange, Binance.
Website | Whitepaper | Telegram | Medium | Twitter | Reddit | Github
About dForce
dForce advocates for building an integrated and interoperable open finance and monetary protocol matrix serving as a unified liquidity pool and back-bone infrastructure for DeFi and open finance applications. Our vision is to build asset protocols (USDx, GOLDx, dToken), liquidity protocols (Swap, Trading and AMM), lending protocols and ultimately create a networked matrix of protocol interoperable on liquidity and asset level. dForce Token (DF) is the utility token that facilitates governance, risk buffers and interest alignment across the dForce Network. Our team includes both crypto veterans and professionals from Goldman Sachs, Standard Chartered Bank, Hony Capital. dForce is backed by investors including CMBI (China Merchants Bank International), one of the world's leading commercial banks, Multicoin Capital (a pioneering token fund headquartered in the USA) and Huobi Capital (the investment arm of Huobi Group).
Website | Whitepaper | Telegram | Medium | Twitter | Reddit | Github