Proposal for the Deployment of RWA Vault on EntroFi
Summary
This proposal seeks approval from dForce Community regarding extending USX facility to EntroFi to facilitate Real-World-Financing (RWA). This facility mainly serves the purpose of providing liquidity to crypto trading firms, with dForce's representative entity or appointed entity acting as fund custodian.
Background:
EntroFi is an innovative protocol designed to drastically expand the potential of DeFi liquidity by channeling them directly toward ownership of real-world assets (RWAs) or infrastructures. Its mission is to create a next-gen financial ecosystem where capitals as well as assets transfer freely between on-chain and off-chain with maximum efficiency and minimum hustle. dForce announced partnership with EntroFi to power RWA and permissioned institution onboarding in October (click here to read more).
We are currently working with several DeFi platforms including dForce in RWA related deal sourcing, evaluation, and execution. As a start, we'd like to propose to seek trading liquidity from dForce for crypto trading desks and firms, our partnered whitelisted trading firm are those which have stringent risk management as well as proven trading records, the funding is mainly for trading strategies that feature stable return (i.e. base trade or arbitrage) with low daily drawdown.
Below are proposed terms for the captioned RWA Vault we'd like dForce to open with EntroFi, where USX can be minted to provide liquidity for whitelisted trading firms and trading desks, with funds in full custody by dForce representatives or its appointed entities.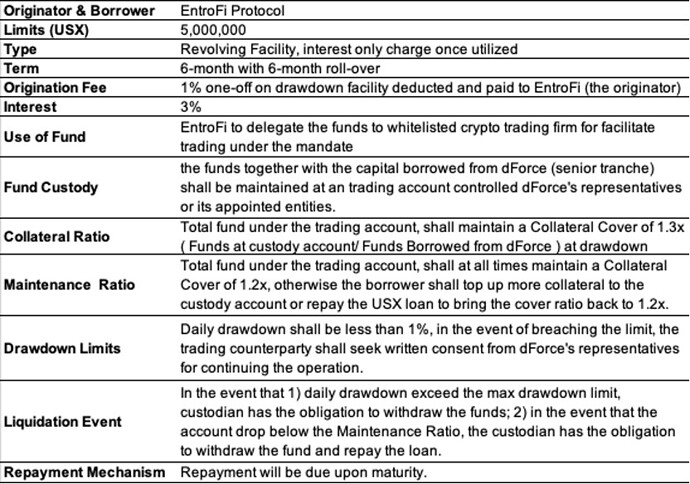 Motivation
EntroFi's mission is to onboard regulated institutions and provide the bridge between DeFi and CeFi and by providing leverages to whitelisted trading desks with funds at dForce's custody with higher cover ratio. We believe that the partnership could help dForce scale up its RWA offering. All funds will be in full custody by dForce's representatives or its appointed entities with a stringent risk parameter attached. We expect the first vault to be over-collateralized with a cover ratio of at least 2x upon its first drawdown.
Proposal
• Seek approval for 5,000,000 USX facility from dForce with terms above.
• The RWA Vault will be deployed on EntroFi's portal to allow our users to mint USX.