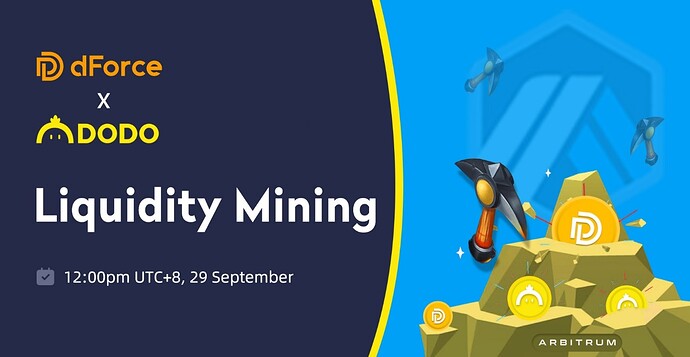 We are thrilled to announce dForce's dual liquidity mining initiative (DF + DODO) with DODO on Arbitrum, starting from 12:00pm UTC+8, 29 September, 2021.
dForce has achieved a robust growth with a total supply of $100m on Arbiturm in just one week after the launch of DF liquidity mining on 13 September (click here to check out the most up-to-date gauge). We are now the #1 lending protocol and #3 DeFi protocol in terms of TVL on Arbiturm – all credits go to dForcians and our community partners!
With a target to boost liquidity across Arbitrum ecosystem, we would like to extend the dForce liquidity mining initiative to incentivize liquidity provision for dForce-backed assets, with DODO becoming the first trading venue. 3 pools will be set up on DODO through this initiative with dual rewards:
DF/USX pool
USX/USDC pool
USX/EUX pool
dForce & DODO Dual Liquidity Mining:
A total of 33,000 DF tokens and 2,166 DODO tokens will be distributed daily to users providing liquidity for dForce assets on DODO: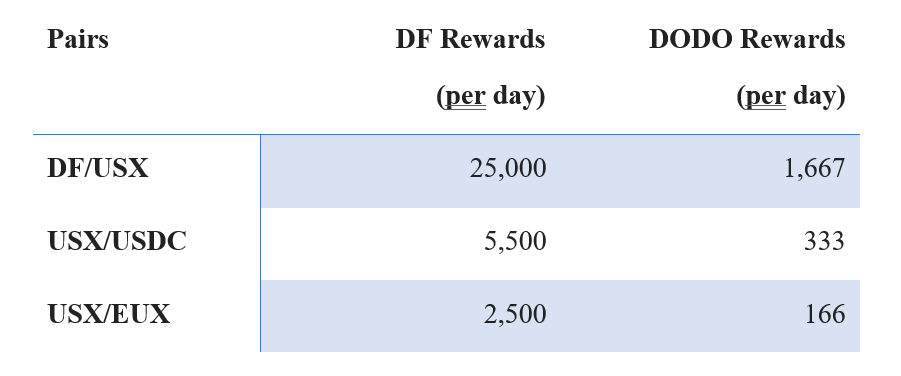 Please be noted that we will assess and adjust the gauge regularly to achieve the optimized outcome of the incentive program, with the first epoch kicking start from 12:00pm, UTC+8, 29 September through 12:00pm, UTC+8, 26 October, 2021 (4 weeks).
About DODO
DODO is a decentralized exchange platform powered by the Proactive Market Maker (PMM) algorithm, which leverages price oracles, and efficiently allocates funds near the market price. DODO features highly capital-efficient liquidity pools that support single-token provision, reduce impermanent loss, and minimize slippage for traders.