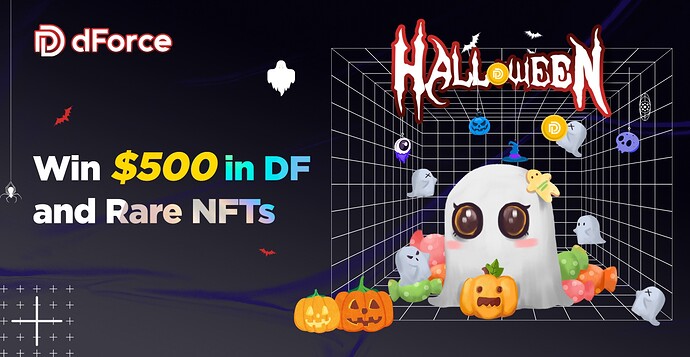 To celebrate Halloween, dForce team would like to invite you for a chance to win $500 in $DF, win rare NFTs, and showcase your Meme skills!
How to participate
• Follow dForce's official Twitter account
• Join dForce's Telegram community
• Join dForce's Discord
• Retweet competition announcement tweet and tag 5 friends
• Post your Meme with the hashtags #dForceMeme #dForceHalloween
• Fill in this google form
• Create a Meme with the topics stated below
Meme Topics
• Mention any feature of dForce or general dForceprotocol!
• Include dForce logo or pictures
• Visit https://dforce.network/ for more ideas!
Competition Duration
15 days, from Oct 22nd – November 5th, 2021
Reward
The total prize pool of $500 in $DF and NFTs will be distributed as follows:
1st prize: $100 in $DF to 3 persons (with the most Likesand Retweets).
2nd Prize: 2 rare NFTs to 2 persons (with the most replies)
3rd Prize: 20 lucky winners to share $200 in $DF
Terms & Conditions
• All users are welcom to participate in the event
• dForce will announce the winners and distribute the rewards within 15 business days after the competition ends
• The participant is responsible for all copyright issues of the images used to participate in the competition
• If the participants don't fill in the provided forms, they are not eligible for the rewards
• dForce reserves the right to disqualify anyone who is deemed to break any of the above rules or act with malicious intent