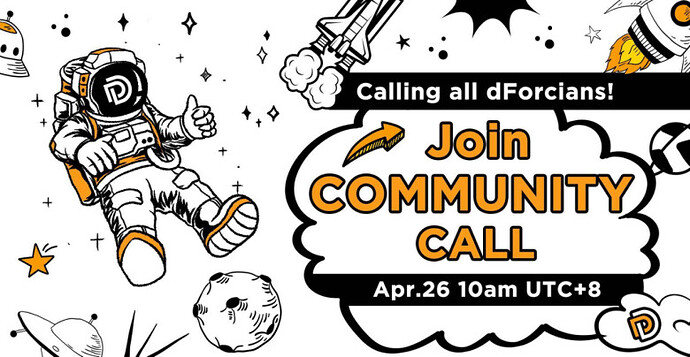 On April 26, dForce will hold its April
Community Call!
This will be an opportunity for existing and prospective dForce community members to come together for updates, governance discussions, and Q&A. Our intention is to hold periodic community calls in the future to facilitate dialogues for stakeholders of dForce.
We have exciting news coming up in the next several weeks, and we'd love for our community to be a part of it!
How do I join the call?
bilibili:
哔哩哔哩直播,二次元弹幕直播平台
Youtube:
http://youtube.com/channel/UCvvI93uh1tHIc-49eejricQ/live
Our call is public and anyone can join, we will have Mindao to give an intro about the agenda and governance issue and we are glad to have community representatives, Pan Chao and Mable Jiang to participate in the call for discussion.
Below is the high-level agenda for the upcoming call. This call belongs to our community, so we'll be opening it up for questions & dialogues!
Agenda:
1.Introduction about upcoming testnet for dForce's stablecoin + synthetic launch
2.Walkthrough of the testnet and key protocol features
3.Governance related discussions:
3.1New protocol pools setup and risk parameter proposal
3.2Tokenomics 2.0 proposal
3.3Liquidity bootstrapping
3.4Others
4.Open discussion (Q&A)
If there are any other proposals, projects, or topics you'd like to add to the agenda, please feel free to let us know through our social media channels
Twitter
,
Telegram
,
Discord
, or our
Forum
.
Everyone is welcome to participate and contribute.
The call will be video-recorded and live-streamed on Youtube. The video recording will be uploaded on
Youtube
for anyone who can't make it.
Hope to see you on the call on Monday!
Related Links:
1.
A Tale of Three Protocols
2.Proposal for dForce Tokennomics 2.0(
Proposal for dForce Tokenomics 2.0
)
3.Proposal for Pool and Risk Parameter Setting for dForce V2 Launch (
Proposal for Pool and Risk Parameter Setting for dForce V2 Launch
)
We welcome you to join our community to participate in related discussions:
dForce Official Website: https://dforce.network/
dForce Forum: https://forum.dforce.network/
Twitter: https://twitter.com/dForcenet
Telegram: Telegram: Contact @dforcenet
Medium: dForce – Medium