As we are about to launch our upgraded protocols, it is important we phase out the roll-out in stages, with pool and parameters set at manageable levels, it's also important that we leverage the Community Call to discuss this proposal and ultimately proposed for DF token holder votes:
Below is the proposed pool setup and risk parameters: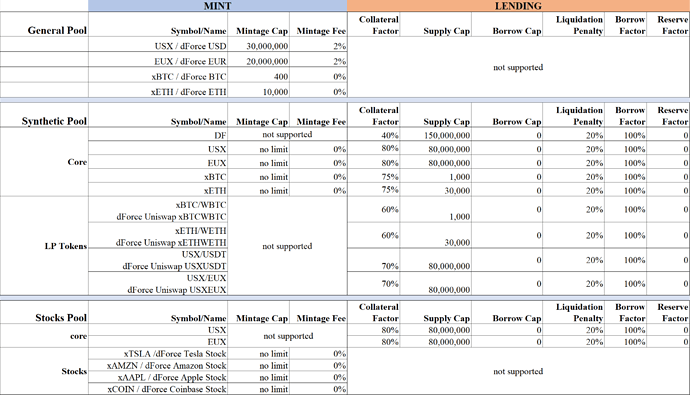 Several considerations we put into the proposal:
Core Synthetic Assets (including native stablecoin) are not enabled as collaterals in the General Pool (lending pool) upon initial launch, to ringfence the collateral risk at the stage.

Synthetic Pool have two distinct pools, Core Pool only support core synthetic assets and its associated LP tokens, while Stock Pools support stock and equity synthetic which typically has market-close period for trading.

We propose different mintage fees for different pools, i.e for the General Pool, propose to set the fee at 2% while Synthetic Pools's mintage fees are set to 0% to encourage more mintage from these pools.

Synthetic stocks are not able to be used as collateral at initial launch.
We welcome the community to participate in the discussions and provide feedbacks.